Druggists – Singapore
Posted On 11 February 2019
---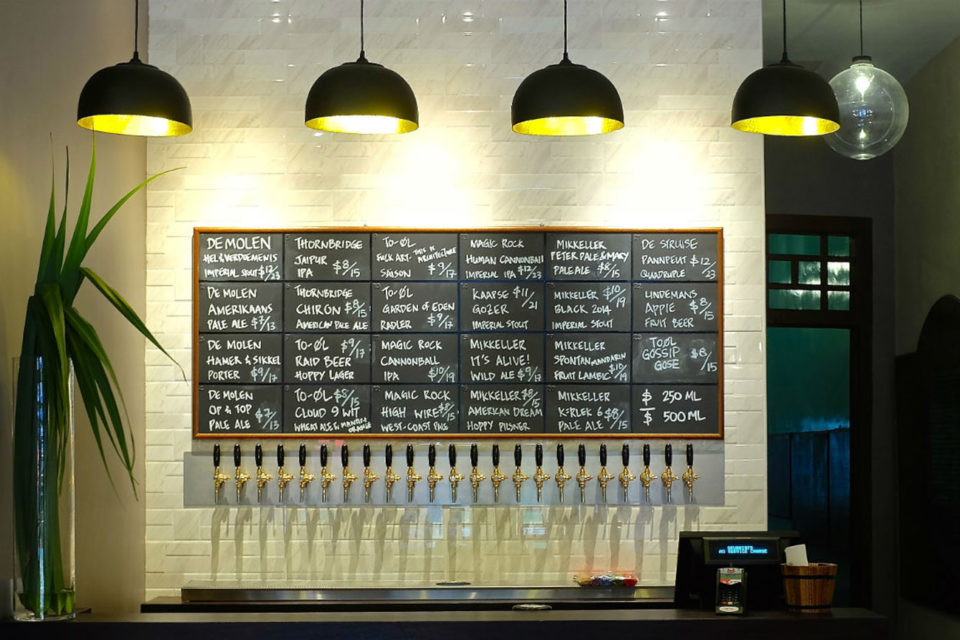 Entering from Tyrwhitt Road, you might be forgiven for mistaking the Druggists for an old Chinese herbal medicine store. With its large Chinese Druggists Association signage, original historic tiled exterior, and aged wrought-iron gates. Which is exactly what owners Corrine Chia and Lincoln Goh were aiming for in the fitout of their venue.
After searching for some time, for the ideal location for a retail outlet for their craft beer distribution business, Chia & Goh came across the current location in 2015, in the rapidly gentrifying district of Jalan Besaryou. They then spent another 3 x months desigining, and refitting the venue to its current state of glory.
In somewhat of a contrast to the exterior of the building, the interior has almost a Parisian feel about it. With cool mint green walls, dark bentwood chairs and stools, marble topped tables, and a blue geometric cube tiled floors. Out the back, you'll find a small, sheltered, courtyard, and some very unique basins in the bathrooms (be sure to check them out).
Beer-wise, there's 23 x regularly rotating taps, that tend to be focused on the Danish, Belgian, Engligh and American independent brewers that Chia & Goh import for their Drinking Partners distribution company – think Mikkeller, To'Øl, Amager, Thornbridge, Boon, Prairie and Magic Rock.
"Having a rotating range of beers on tap, allows us to better support our principal brands, and helps expose their beers to local consumers – Corrine Chia (Co-Owner)"
The food menu is prepared by a small kitchen the back, and focuses on tasty locally-inspired bar snacks that pair perfectly with the beers on tap. From Poutine Fries, Char Siew Baguette Sandwichs, Sliders, Chicharon, Gula Balls, crunch Chicken Wontons, and lip smacking Coffee Pork Ribs – seasoned with spices like cinnamon and cloves, with a dash of sweet honey to complement the coffee, and topped with sesame seeds for an extra pop.
Web:  www.facebook.com/DruggistsSG
Address: 119 Tyrwhitt Rd, Singapore 207547
Hours:
Sunday 2pm–10am
Monday 4pm–12am
Tuesday 4pm–12am
Wednesday 4pm–12am
Thursday 4pm–12am
Friday 4pm–2am
Saturday 4pm–12:30am
---